Estrada slated to speak at SCCC Commencement
KSCB News - April 27, 2016 10:07 am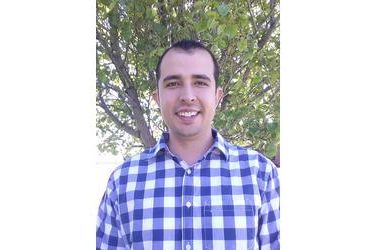 Dr. Uriel Estrada, a 2005 graduate of Seward County Community College, will speak at the college's commencement exercises at 10 a.m., Saturday, May 7, in the Green House gymnasium.
Uriel "Udi" Estrada was raised on Tuls Dairy Farm outside Hugoton, and graduated from Hugoton High School in 2003. He received an Associate of Arts degree from SCCC in 2005. While at SCCC, he was a Presidential Scholar, and served as a tour guide for the admissions office.
"I loved giving tours so much that I continued doing it when I transferred to Kansas State University," he said. Another element that carried over to Estrada's post-SCCC educational journey? Finishing early.
"I came in to college with a lot of credits because of concurrent classes at Hugoton High School, and that was a real advantage," he said. "After Seward, I took a year off to work and save money. When I went to K-State, I was in good shape."
At K-State, Estrada earned a bachelor's degree in secondary education with an emphasis in science.
Meanwhile, his younger brother, Alejandro, had followed the successful path forged by Udi as a Presidential Scholar at SCCC. He also completed a bachelor's degree at K-State. Eventually, both brothers completed their education at Cleveland Chiropractic College in Overland Park.
"We'd been planning this since high school," recalled Estrada. "It was a cloudy day and the two of us were taking care of the calf barn out at Tuls Dairy. We were talking and that's when we set our minds to it: 'let's pick something we both want to do for a job, and do it together.'"
Today, the Estrada brothers are both doctors of chiropractics, working together as owners and operators of Liberal Family Chiropractic, which they purchased in 2014.
Estrada is the son of Efrain and Imelda Estrada, of rural Stevens County. He is married to Rosi, a second-grade teacher for USD 480 in Liberal. The couple have a one-year-old son, Damian, and are expecting a second child in eight weeks. Family connections are of utmost importance to Estrada, whose sister, Gricelda, also lives and works in Liberal as a first-grade school teacher.
"When I was thinking about college, all those years ago, I had friends who thought I should go somewhere else, leave the state," he recalled. "I didn't feel like that was a good fit for me. Coming to Seward allowed me to stay close to my family, to keep working at the good job I had, and save some money."
Going elsewhere might have seemed exciting to his high school peers, "but I'm the opposite," Estrada said with a laugh. "For me, what's important is having a place you call home. Liberal is home for me. I love it. It's a good place to raise a family, and that's my ultimate goal."
The fact that he got a great start to college, he said, was icing on the cake.
"SCCC provided a transition for me from high school into the college world, which sometimes can be scary," he said. "Seward has a nice, warm, friendly, welcoming environment in which students can thrive, and that's what I did."
Estrada will speak to the class of 2016 at commencement ceremonies in the SCCC Green House gymnasium at 10 a.m., Saturday, May 7.