Emmet Homers Twice in Evans Last Outing
Brock Kappelmann - June 27, 2019 7:14 am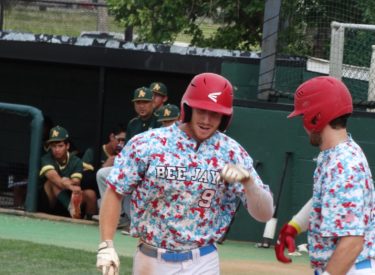 Liberal's native son Cole Evans left to a standing ovation.  Connor Emmet homered twice.  Rattler teams adorned the field.  A pretty good night at the ballpark Wednesday night at the Liberal Bee Jays defeated the sluggish Dodge City A's 10-4 at Brent Gould Field.  The A's helped the Bee Jays along with five errors.
Evans went 5 and 1/3 innings for the win.  He allowed three runs.  He left with a hug from his longtime coach Eric Olmstead and a standing ovation from the home crowd.  And ironically, it was Rattler night.  Liberal's travel teams were recognized during the game and Evans used to be one of those little guys.  Evans was backed up quite nicely out of the bullpen.  JJ Rytz went 1 and 2/3 allowing one run and Cole Schoepke pitches two scoreless innings.
The Bee Jays loaded the bases with no outs in the second and scored two runs.  Cayde Ward and Corbin Truslow singled to lead off the inning.  Shane Sirdashney walked.  Trevor Beard drove home a run and reached on an error.  Aiden Shepardson bounced a single through the infield for a hit.  Connor Emmet blasted a homer over the scoreboard in left center for a 3-0 lead.  Dodge City tied the game against Evans and the BJ's with a three run homer by Jack Firestone in the fifth.  But Liberal answered with five of their own.  Stacy singled and Jordan Williams doubled.  Stacy scored on an error.  Blake Dickman singled home a run.  Beard added an RBI single and Shepardson singled home two to make it 8-3 after five.  Williams homered to left to lead 9-4.  Emmet homered to left center in the eighth to give Liberal a 10-4 lead.  Emmet has four homers this season. Liberal out-hit the A's 14-8 and Dodge City had five errors while Liberal did not commit an error.
Liberal is 15-6 overall and 13-6 in the Kansas Collegiate.  Liberal leads the Jayhawk Division at 5-2.  Dodge City is 12-8 overell, 11-8 in the KCLB, and 1-6 in the Jayhawk.  Liberal plays at Dodge City Thursday night at 7:30 to begin a five game road trip.  The Dugout Show begins at 7:15 on 1270 and kscbnews.net.