Carroll Clobbers Liberal
KSCB News - October 15, 2011 7:30 am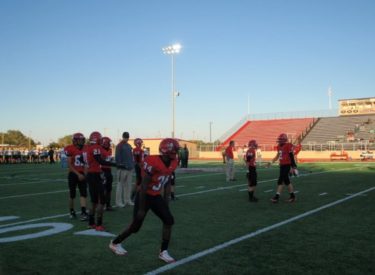 The green army came into Liberal quietly and calmly. There wasn't the acrimony associated with the Liberal-Carroll series from the 90's or 2000's when Carroll considered Liberal the bain of existence. Liberal won games every way possible against those Eagles. They won blowouts, shootouts, and made plays that people in Liberal still talk about. But Friday night seemed like more of a business trip. Fourth ranked Carroll coasted to town in two charter buses for the players and one for the fans and quietly dismantled the shorthanded Redskins 54-7 on senior night at Redskin Field. Carroll amassed 440 yards and bottled up the Redskins for 117 yards, most of which came in the fourth quarter against back ups.
Mistakes were again costly for the Redskins. Three first half turnovers in their own territory turned into three Bishop Carroll touchdowns. Jalen Hernandez scored on a 17 yard run at the 3:22 mark. A Liberal receiver fumbled at the LHS 19 which BCHS quarterback Zeke Palmer would turn into an 18 yard touchdown run several plays later. It was 14-0 at the end of the first quarter.
Liberal began the second quarter with a fumble on their own 32. Two plays later, Palmer found Bryce Harvey for a perfect strike into the southeast endzone to make it 21-0 after the PAT. Liberal fumbled on their own 46 paving the way for a Palmer passing to Matt Denning on a hitch route for a touchdown at the 2:53 mark. Michael Begley blocked the point after and it was 27-0 at halftime.
The Eagles kept the ball on the ground in the third quarter. Jalen Hernandez rushed 42 yards on the first drive include a four yard score at the 8:35 mark. Then Carroll looked to the future and gave the ball to their freshman Jacob Goolsby who scored on a two yard run at the 7:12 mark, a score with 2:29 to play in the third made it 47-0. Goolsby took a 22 yard scamper to the paint with 9:32 to play in the game. The freshman rushed for 130 yards.
LHS freshman Rex Heronemus scored Liberal's only touchdown on a one yard run at the 5:02 mark.
Carroll's Zeke Palmer passed for 172 yards and two touchdowns while rushing for 56 yards and a touchdown. Jalen Hernandez rushed for 70 yards.
The Eagles win their sixth straight game against LHS and improve to 6-1 while the Skins fall to 1-6. Liberal plays at #2 6-1 Hutchinson Friday night at 7 p.m. on Talkradio 1270 and kscbnews.net.