BJ's Tumble with Two Sunday
KSCB News - June 30, 2014 7:09 am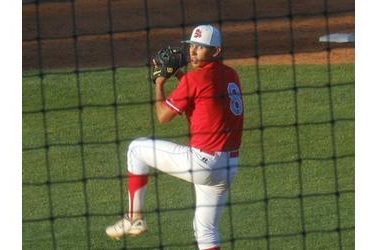 The Bee Jays had a tough time getting off the field with two outs Sunday night. Clinging to a 2-1 lead, the visiting Derby Twins scored three runs with two outs in the seventh and added two more with two outs in the eighth to blow the game open. Derby wins the series 2-1 and wins the season series 5-1.
Liberal got off to a good offensive start. Derby scored a run in the first after to beanballs from starting pitcher Robert Dugger. But Alec Isaac doubled to left to lead off the first and Zach Reding hit it to nearly the same spot in left to tie the game. Seth Stevens lofted a sacrifice fly to left to score Reding and a crash play ensued at home plate. That 2-1 lead stood until the seventh. With two outs and the bases loaded, Derby's Brian Choi hit a little dribbler on the infield that he beat out to drive home the tying run. A Jarrod Flax ground ball through the left side drove home two more runs. The Twins added two in the eighth and one in the ninth. It was a frustrating night for the BJ offense placing their leadoff man on first in six of the first seven innings, but only scoring in the first.
Robert Dugger pitched very well going 6.2 innings with six strikeouts and a walk.
The Bee Jays finish 1-5 against Derby. Liberal is 11-12 overall and 7-12 in the Jayhawk League. while the Twins are 16-7 overall and 11-6 in the Jayhawk. The Bee Jays play non league at the Albuquerque Diablos Monday and Tuesday nights. KSCB's next broadcast is at Dodge City Thursday night at 7 on 1270 and kscbnews.net.
Elsewhere in the Jayhawk, Wellington swept Dodge City in Wellington 5-4 and 2-1. Hays handled El Dorado at Larks Park 8-1.
Wellington 16-2
Derby 11-6
Hays 10-9
Liberal 7-12
El Dorado 6-12
Dodge City 5-14