BJ's Dominate Diablos
KSCB News - June 2, 2014 7:10 am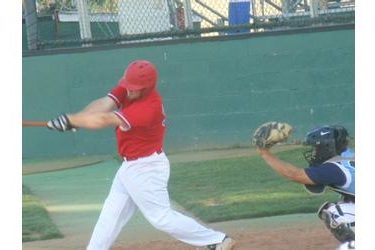 The Liberal Bee Jays are 3-0 after a 12-3 win over the Albuquerque Diablos on a hot windy evening at Brent Gould Field. Liberal banged out 15 hits in the win.
The Diablos scored three in the second to take a 3-0 lead. NJIT's Mike Rampone doubled home a run and scored on a wild pitch in the second to make it 3-2. Cisco's Alec Isaac doubled high off the wall in left center and narrowly missed a home run. He later scored on a wild pitch. Zach Hoffman doubled to right center to score Isaac and give Liberal a 4-3 lead. Seward's Bryson Allen singled home a run in the fourth to make it 5-3. Derek Jones bunted but an error allowed three runs to score including Jones to make it 8-3. UTA's Brady Cox doubled off the wall in right to score Hoffman in the seventh. Justin McCarty of Central Arkansas singled home a run to make it 10-3 in the seventh. Liberal scored two more runs in the eighth to lead 12-3. Cox walked with the bases loaded. Coffeyville's Nick Jones pitched four scoreless innings for the win. Lubbock Christian lefty Glen Warrick pitched an inning and one third scoreless. Cory Stiefel pitched two third scoreless and Cisco's Blake Rogers pitched a scoreless ninth.
Liberal hosts Albuquerque Monday night at 7. Brown's Furniture and Holiday Inn Express Hotel and Suites are the buyout sponsors.