Bee Jays Run Rule Wellington
Brock Kappelmann - June 14, 2019 6:50 am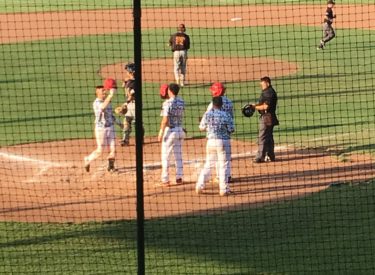 The Liberal Bee Jays run ruled the Wellington Heat 14-4 in eight innings Thursday night at Hibbs-Hooten Field in Wellington. The BJ's and Heat split their two game series.
Payton Strambler pitched five strong innings for the win. Trey Goodrich went two innings and Trevor MacDonald finished the game on the mound.
Liberal scored six in the second inning. Colton Moore lifted a three run homer to left to begin the scoring. Connor Emmet bounced a single through the right side to score two. The sixth run scored when Corbin Truslow hustled out a fielder's choice. The Heat scored single runs in the third and fourth without getting a hit. Liberal answered with three in the fifth to lead 9-2. Cayde Ward doubled to lead off the inning. Aiden Shepardson singled home a run. Tristan Stacy singled home and run. Justin Quinn hit a sac fly to right.  After a walk and another Cayde Ward double,  Colton Moore's sac fly in the sixth gave the Bee Jays a 10-2 lead. Wellington plated two in the seventh due to a bad hop. Ward belted an RBI double off the wall in left center to make it 11-4 in the eighth. Another run scored on an error. Shepardson blasted a three run homer to left to make it 15-4.  Ward was 3-4 with three doubles. Liberal out hit the Heat 15-3. Wellington committed three errors.
Liberal is 8-3 and 7-3 in the KCLB. Wellington is 10-3 and 6-1. Liberal faces the Valley Center Mud Daubers Friday at 4 at Robertson Field in Wichita. The Dugout Show begins at 3:45 on 1270 and kscbnews.net.