Bee Jays Fizzle on the Fourth
KSCB News - July 5, 2015 7:52 am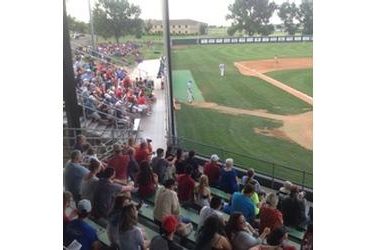 The Dodge City A's are making a habit of this. Last year the A's won the 4th of July game in Liberal 8-4. Saturday night at Brent Gould Field, the A's made it three straight on the fourth. The A's shocked the big home crowd beating Liberal 7-6 and 7-3 at Brent Gould Field. Liberal is now just a half game up on second place and surging El Dorado.
In game one, the A's scored one in the second before the BJ's plated two in the bottom of the inning thanks to a two RBI single from Jared Huber. Dodge City wasted no time taking the lead right back thanks to a solo home run from Alex Aquiar and a two run shot from Chris Balogh to give Dodge City a 4-2 lead against starter Tyler Giovanoni. All three runs game with two outs. Liberal crept closer with a run in the fifth as Brady Cox singled home a run. Dodge broke it open with three in the seventh also with two outs meaning the A's scored all seven runs with two outs. Liberal rallied with three in the sixth to make it 7-6 DC as Jaylen Hubbard singled home a run before Nick Brooks walked with the bases loaded and Brady Cox hit a sac fly. There were a couple of controversial calls which went against the BJ's as the BJ's believed Nick Brooks shot to left center went off the scoreboard for a home run but was called a double instead. The BJ's also appealed to third on a play when they strongly believed the DC runner missed third.
Tyler Wiedenfeld seemed to be in control in game two. The side arming right hander allowed one unearned run and three hits into the seventh before the BJ's coughed up six runs. Liberal got off to a good start scoring two in the first as Chase Chambers ripped a double off the wall in center and Brady Cox singled home a run. Dodge scored an unearned run in the fourth after a man reached on an error and scored on a double steal. Liberal added what appeared to be a big insurance run in the sixth when Chambers tripled to left and Cox singled him home.
Liberal falls to 20-10 and 16-8 in the Jayhawk League while Dodge City is 16-12 12-12. The same two teams wrap up their season series Sunday night at 7 in Dodge City on 1270 and kscbnews.net.
Scores
El Dorado 4 Hays 3
Haysville 9 Derby 3
Bethany 16 Wellington 2
Standgings
North
Liberal 16-8
El Dorado 15-8
Dodge CIty 12-12
Hays 11-13
South
Haysville 15-9
Wellington 13-10
Derby 8-16
Bethany 5-19