Baseball Coaches Pick Saints to Win Jayhawk West
KSCB News - January 28, 2015 1:29 pm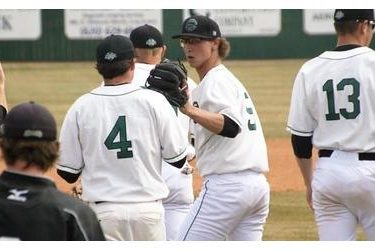 The Jayhawk West coaches have spoken and they have picked the Seward County Saints to win the conference once again this season, if their premonition comes through, it would mark the 11th time for the Saints to capture the title in the past 15 seasons.
Seward was picked to win the league by the coaches despite a subpar 2014 season in which they went just 32-29 overall and 16-16 in Jayhawk West Conference play where they finished 5th. Coming in 2nd in the poll was Seward rival Garden, followed by Colby who was picked 3rd. Last year's runaway champion Hutchinson was picked 4th with Butler behind them in 5th and Barton in 6th. Dodge City checked in at #7 and Cloud County and Pratt wrapped up the preseason poll at #8 and #9 respectively.
The Saints have high hopes for the 2015 season, returning 11 sophomores including 6 starters from last season. Seward will also rely on four transfers this season including a pair of Division I transfers. The Saints had five players sign in the early signing period of 2014 with staff aces JB Olson and Hayden Howard inking with Oklahoma and Texas Tech respectively, while All-American catcher Brent Williams is headed to Oral Roberts and returning starters Brandon Urquizo and Brandon Rix are on their way to Lubbock Christian at years end.
Also released today, the Saints are one of five NJCAA teams outside the Top 20 in the Preseason poll, receiving votes. They are the only Jayhawk West team mentioned in the preseason release.
Seward will open their 2015 campaign on Friday at Brent Gould Field, the earliest start in school history, when they host McCook for a single nine inning game starting at 1:00.
Roy Allen