Aggie Softball Splits with Bacone
KSCB News - April 25, 2014 6:25 am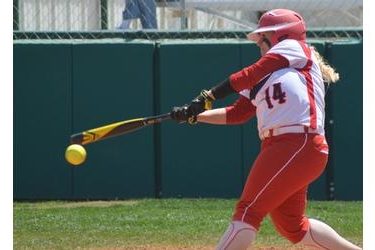 Aggie Bats Beat Bacone in Split Series
By Justine Gaskamp on 04/24/2014
Muskogee, Okla.-Aggie softball put up two great games against Bacone College
Wednesday afternoon as they split the double-header adding one more win to
the OPSU record.
Strong batting and great pitching made for great softball in both games as
the Aggies took game one by five runs with a score of 8-3, and came just shy
of victory in game two losing 3-2 against the Lady Warriors.
Rachel Thompson earned her second win of the season pitching seven innings
in game one and allowing just six hits and three earned runs; Thompson sat
down seven batters with strikeouts.
Bacone started things off with two runs in the first inning with a runner
stealing home for the second run.
The Aggies came back with a run in the second as Laura Trehal doubled to
left-center and was later brought in by Ashly Duin on a single.
Thompson struck out two and put out one to close out the second inning and
the Aggie bats took over from there.
Anyssa Barbosa led off the third with a double to left-center and was
followed by Salina Galindo who singled and was advanced to second on an
error by left field, bringing Barbosa in for the tying run. Madison
Heathington then drove a double to score Galindo and was matched by Trehal
as she smacked her second double of the day to score Heathington. Samantha
Arledge then stepped up with a single which brought Trehal home giving the
Aggies a three-run lead (5-2).
Bacone failed to score a run in the third and both teams remained scoreless
through the top of the fifth inning. The Lady Warriors scored one run in the
bottom of the fifth, but that would be their last of the day.
The sixth inning opened with one Aggie batter being hit by a pitch and the
next being walked to first base. With two on, Barbosa stepped up and blasted
a three-run homer to left field giving the Aggies a comfortable 8-3 lead
which would be the final score after a run-less seventh inning.
Arledge got the start in the circle for game two and pitched a strong 6.2
innings totaling a whopping 13 strikeouts; she allowed only six hits and
three earned runs.
Once again the Lady Warriors struck first scoring one run in the first
inning. Another run wasn't scored until the top of the third when Lilli Ward
hit a single to short-stop bringing in Kolbi Graves who doubled to get on
base and advanced to third on the throw.
Innings four and five remained scoreless for both teams until OPSU came back
to tie things up with one run in the sixth; Heathington was brought across
on a single by Ashly Duin.
Arledge tossed two strikeouts to close out the sixth but could not contain
the Bacone bats in the seventh as they scored the winning run off two
singles and a walk. With the loss, Areldge's record falls to 8-16 for the
season.
Four Aggie batters hit .500 against the Lady Warriors: Ashly Duin, Salina
Galindo, Kolbi Graves and Laura Trehal, all went 3-6 in the series. The
Aggies hit a combined six doubles and one home run.
Anyssa Barbosa led the team in RBI with three and was followed by Duin with
two.
Rachel Thompson made some great plays behind the plate with 15 putouts as
catcher in game one. Anyssa Barbosa also contributed in the field totaling
ten putouts from first on the series.
The Aggies move to 10-34 overall with two conference wins. They will
continue conference play on the road this week as they finish their season
in Claremore, Okla. with a three-game series against Rogers State. Friday's
double-header is set for 4 p.m. with Saturday's game three taking place at
Noon.