A Super Sunday with Gary Cornelsen
KSCB News - February 3, 2012 12:59 pm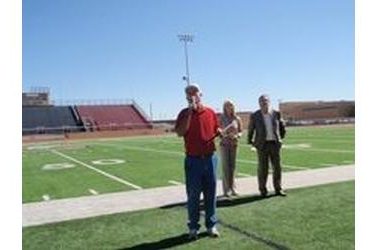 Legendary former Liberal football and track and field coach Gary Cornelsen will return to Liberal Sunday to speak during halftime of the Super Bowl. The Liberal Ministerial Alliance presents Super Bowl Outreach Sunday at 5 p.m. at Faith Tabernacle Church at 514 North Kansas in Liberal. The game will be shown on 12 foot projection screen in HD.
Pizza Hut and Coke will be served during the game. All children 13 and younger must be accompanied by their mother or father or church youth sponsor. Call 624-7565 to RSVP for the event.
Cornelsen was the head football coach at LHS from 1991-2001 and 2003 and went 118-17 with four state championships and three runner up finishes. He coach the Redskin boys to 14 state championships and 10 of 11 state championships in girls basketball.