Warning Period Ends For Kan. Seat Belt Violations
KSCB News - June 28, 2010 12:00 am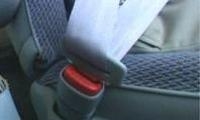 Beginning June 30, 2010, citations for non-seat-belt use will be issued, ending the warning period for the new primary seat belt law, which went into effect June 10.
Law enforcement officers in Kansas will now be able to stop and ticket drivers and front-seat passengers who are not wearing safety belts even if the officers do not observe another traffic violation. The new law also makes it a secondary violation for adults in the back seat, which means they may be fined only if another citation is issued. This does not affect the existing law for anyone under 18; it is still a primary offense if they are unrestrained anywhere in the vehicle.
When worn correctly, safety belts have proven to reduce the risk of fatal injury to front-seat passenger car occupants by 45% and by 60% in pickup trucks, SUVs and minivans. That research becomes significant when coupled with KDOT statistics showing that only 30% of people killed in motor vehicle crashes in 2008 were buckled in at the time of the crash. Currently, Kansa safety belt use rate is 77%, which is one of the lowest in the nation (43rd out of 50 states) and well below the national average of 84%.