Voter Registration Deadline Approaching In Texas County
KSCB News - June 29, 2010 12:00 am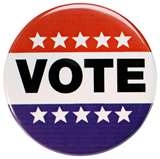 The deadline to register to vote is Friday for Texas County residents wanting to vote in the upcoming primary election.
The deadline to register is just five days away for the Primary Election on July 27. Residents who have never registered to vote before or who are not currently registered in the county of residents may apply to register or change their name. They can do that by simply filling out and mailing and Oklahoma Voter Registration Applications in time for it to be postmarked by July 2.
Persons who are United States citizens, residents of Oklahoma and are at least 18-years-old may apply to become registered voters, said County Election Board Secretary.
Voting is an important right that election officials say residents should take a part of. They say it's not just a right, but a responsibility.
The County Election Board says that it will respond to each of the applications and a response will be made with wither a Voter Identification Card or a letter that explains the reason the application was not approved. The Voter Identification Card will have the new voter's precint number and polling place location.
Oklahoma Voter Registration Application forms are available at the County Election Board office– 301 N. Main, The Texas County Tag Agency– 114 NW 16th St., The Hooker Tag Agency– 201 E. Glaydas St. in Hooker, The Field Agency– 112 2nd St. in Texhoma or the Guymon Public Library– 206 W. Fifth St. The applications are also available online at www.elections.state.ok.us.