Viveros Wins WAC
KSCB News - October 14, 2011 6:40 am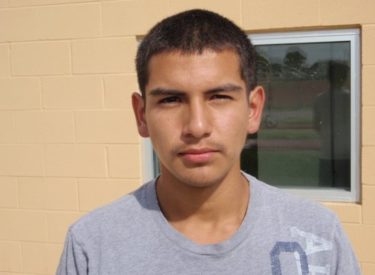 The Redskins competed for the Cross Country WAC championships Thursday in Dodge City. Sophomore Angel Viveros celebrated his 16th Birthday with a WAC championship. Head coach Tyson McGuire says Viveros was on his game.
"Angel ran a fantastic race, we knew that Dodge was going to go out fast and try to get him tired since he usually leads the race, so we went in with the plan to let the Dodge Runners lead the first mile. At the mile mark Angel was setting in third place, and that is where he made his move, winning the 5K race with a time of 16.42."
Senior teammate Eric Minjarez also made the All WAC team with a 4th place finish. SR. Fidel Munoz was an All WAC honorable mention runner with an 8th place finish. Daniel frazier 13th, Obed Quintana 22nd, Marco Espinoza 25th, and Garret Allaman 34th were the other Redskin Runners. Liberal boys ended up with a 2nd place team finish behind Dodge City.
The Lady Skins had a successful day as well with Destyni Lucero leading the Redskins with an All WAC 5th place finish. Mercy Perez finished with a respectable 11th place finish, Janette Borunda 13th, McKenzie Wright 15th, Alexandria Chandler 18th, Vanny Deleon 30th, and Kim Francis 33rd. The girls ended the day with a Third place team finish behind Garden City, and Great Bend.
The Redskins travel to Newton next Saturday for the Regional cross country meet, and expectations of taking both teams to the state meet.
Boys Team places:
Dodge City – 32 points
Liberal – 46 points
Garden City – 76 points
Great Bend – 78 points
Hays – 107 points
Girls Team Places:
Garden City – 21 points
Great Bend – 45 points
Liberal – 62 points
Dodge City – 100 points
Hays – 130 points
Boys J.V. Runners
Ricardo Bustos 2nd
Cesar Flores 7th
Jerry Valdez 8th
Calvin Peterson 9th
Luis Marenco 21st
Miguel Sanchez 31st
Juan Carlos Ocampo 34th
Omar Camocho 40th
Chase Eatmon 42nd
Trevin Garcia 51st
Jared Fox 54th
Brandyn Terrazas 55th
Girls J.V. Runners
Diana Frausto 10th
Adelina Parral 11th
Madison Butler 14th
Cindy Medrano 18th
Lizette Avalos 23rd
Alexadra Rin 40th
Neda Chuon 48th