Tyrone Looks to Take Next Step
KSCB News - August 20, 2010 12:00 am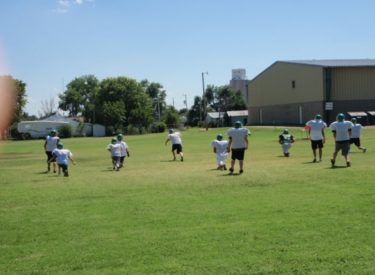 The Class C Tyrone Bobcats ascent hasn't been at warp speed but it has been a steady improvement. They were 2-7 in 2007, 3-6 in 2008, and 4-5 last year. This year the goal is a winning season which hasn't occurred in a couple of decades and a trip to the playoffs which hasn't been experienced in Tyrone since 1996.
The Bobcats have numbers on their side this year under 8th year head coach Josh Bell. There are 24 Bobcats out for football which doubles several of their district opponents. There are seven freshmen out for the sport.
Key Cats include jr. rb/s Travis Shield, sr. qb/slb Tyler Lai, sr. te/de 6'6″ Jacob Williams, sr. fb/cb Colter White, so. lineman 6'2″ 240 pound Dalton Robinson, fr. lineman Jose Garcia, and fr. lineman Conrad Brockett (6'2″ 215).
The Bobcats have also added to their coaching staff. Joining Bell are Travis Manning, Craig Maynerd who played in Switzerland this summer, and newcomer J.C. Ramirez who played at Panhandle State. The Bobcats will be featured during the Sportsguys Friday morning on Talkradio 1270 and kscbnews.net between 7:37 a.m. and 9.
2010 Schedule
Sept. 3- at Rolla
Sept. 10- at Boise City
Sept. 17- at Forgan
Sept. 24- Waynoka
Oct. 1- Duke
Oct. 8- Balko
Oct. 15- Buffalo
Oct. 21- at Shattuck
Oct. 29- at Sharon Mutual
Nov. 5- Goodwell