Two Robbed In Broad Daylight In Guymon
KSCB News - June 27, 2010 12:00 am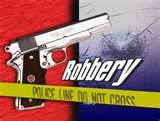 Two residents were robbed within an hour of each other Thursday afternoon and authorities need help identifying the suspects.
The first call of a robbery came to Guymon Police just after 1:30 to the 700 block of Nopal. Further investigation found that three Hispanic males approached a male juvenile sitting in a car in front of his residence. The suspects demanded money from the juvenile then pulled him out of the vehicle and threw him on the ground. Stolen items include only the victim's cell phone. The suspects were last seen in a dark-colored pick-up leaving the area.
A second call of a robbery was then received by Police just after 2:00 to Shandi Circle. The victim, was walking home when he observed four Hispanic males standing around a car and looking through it. As the victim passed, one of the suspects pulled a gun and demanded money. The victim then attempted to flee, only to be tackled by one of the suspects. Another one of the suspects then reached into the victim's pocket and took his money and cell phone.
Suspect number one was described as a Hispanic male approximately 5-foot-9 with a thin build. He has short black hair and was wearing a black shirt and black shorts with white shoes. Suspect number two was also described as a Hispanic male 5-foot-9 with a dark shirt and white shorts. Suspect number three was described as a larger Hispanic male and suspect number four's description was not available.
The Guymon Police Department asks that anyone with information on these robberies call the PD immediately at (580) 338-6525.