Two Legendary Saints Walton and Houston into Hall of Fame
KSCB News - April 23, 2016 6:49 am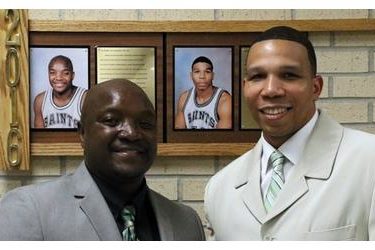 Two of the greatest Saints to ever don a Seward County jersey were enshrined into the Saints Athletics Hall of Fame Friday night at the annual Athletics/Hall of Fame Banquet in the Greenhouse. Carlo Walton and Kevin Houston, both Men's Basketball All-American's returned to Liberal for the weekend, sharing stories with the crowd of their glory days with the Saints in the mid-90's.
Carlo Walton starred for the Saints from 1993-1995 alongside his brother Shelby. Walton is Seward's all-time leader in three major categories including steals with 224, assists with 436, and three pointers with 159. He is one of just two players in school history to record 100 steals and 100 assists in a single season and he did it twice. His 1,422 career points are third most all-time, as is his 20.6 career scoring average. Walton was the Jayhawk West Freshman of the Year in his first season in green and white and was also named a 2nd Team NJCAA All-American during his rookie campaign. In his second season he led the Saints to a then, school record 32 wins and a berth in the NJCAA National Tournament with a Jayhawk West Most Valuable Player and Region VI Tournament Most Valuable Player season. Upon completion of his Seward career Walton signed at Iowa State University and wrapped up his collegiate career at Washburn University.
Kevin Houston continued the Saints success that Walton laid the framework for, coming to Seward County in 1996 and playing through 1998. Houston is one of just five players in program history to receive an illustrious 1st Team All-American honor. He is the second all-time leading scorer with 1,485 career points and is third in school history in rebounding with 651 boards. He is the school's all-time leader in both free throws made with 411 and is the only player to ever record more than 500 field goals in a career as a Saint. Houston was a 1st Team All-Region VI performer as a freshman and was named Jayhawk West Freshman of the Year and followed that up with a sophomore season in which he led the Saints to the NJCAA National Tournament with a Jayhawk West Conference Most Valuable Player worthy campaign. After wrapping up his Seward County career, Houston signed at Miami before finishing his collegiate career at St. Bonaventure. Houston then went on to enjoy a 10 year career in professional basketball, making numerous stops in Europe before returning to his roots in the Northeast.
Walton and Houston become the 12th and 13th members of the Saints Athletics Hall of Fame that was started in 2012.