Two Lady Saints Honorable Mention All Americans
KSCB News - April 1, 2013 1:25 pm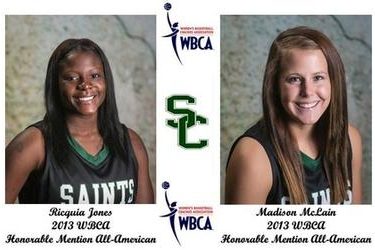 Seward County Lady Saints Ricquia Jones and Madison
McLain have become the latest in a long line of Lady Saints
All-Americans after being named Honorable Mention selections to the WBCA
All-American group by the coaching committee. The WBCA, who selects
their All-American's across the two year ranks regardless of divisions,
picked the two Seward guards after the pair led the Lady Saints to a
20-11 record in 2012-2013.
Jones who is headed to Indiana State University next
season, averaged 10.3 points and 3.9 assists per game for the Lady
Saints this year. She led the team in assists, steals, field goal
percentage, and three point percentage during her sophomore year.
McLain was the Lady Saints leading scorer as a freshman in 2012-2013.
She put up 13.9 points per game and was second on the club with 5.9
rebounds per contest.
Jones and McLain were two of three Jayhawk West players
to receive the honor as Garden City's Tamara Jones was a 1st Team
selection. It is the 4th consecutive year that the Lady Saints have had
at least one player earn WBCA All-American honors.
Roy Allen