Two into Semis for Saints
KSCB News - May 19, 2016 5:01 pm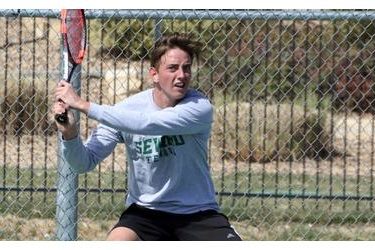 In a busy day of action at the NJCAA National Tournament on Wednesday, a pair of Seward County Saints won their way to the semifinal round to keep the Saints in 6th place at days end as Felipe Casares and Ngoni Makambwa took care of business, putting themselves within one win of having the chance to play for a National Championship Friday.
In the backdraw at #1 singles, Carlos Anez continued to roll for Seward. Anez took out Bryan Allen of Mississippi Gulf Coast first with an 8-1 victory before thumping Breno Lodi of Harford in the consolation semifinals 8-3 to advance to Friday's championship round where he will take on a familiar foe in Cowley's Vincent Reynaud.
Ondrej Nice's run in the #3 bracket came to an end on Wednesday as he was bounced by Mesa's David Felix 6-4, 6-2 in the third round, saddling him with a 5th place finish in the draw.
Following wins in his first two matches of the week, Seward's Alex Mosehle ran out of gas in the #4 draw Wednesday. Moshele was upended by Abraham Baldwin's Ray Donovan 6-4, 6-3 to give him a 5th place finish in his first NJCAA National Tournament.
Felipe Casares continued to hold serve for the Saints in #5 singles, easily defeating Harford's Bradley Schug 6-2, 6-1 in his third round matchup. Casares advances to the round of four where he will battle defending National Champion Rasheed Carey from ASA Thursday morning at 9:15.
In the #6 singles draw Ngoni Makambwa faced a tough draw for the Saints as he took on Emmanuel Popadinec of ASA in the quarters. Makambwa edged Popadinec 7-5 in the first and outlasted him again in a tiebreak in the third 7-6 (2) to will his way into Thursday's semis. The win sets Makambwa up with a date against Seminole State's Anru Fourie Thursday with a bid to the title match on the line.
In doubles action, Przemek Zielinski and Felipe Casares earned the Saints a half point in the backdraw of #1, knocking off 11th ranked Abban/Adam of New Mexico Military by a count of 8-6 to move on to Thursday's consolation semis where they will take on Deferme/Silvestri of Glendale for another key half point in the standings.
The Saints run at #2 doubles came to an end Wednesday as Franken/Lampasas of Tyler were too much for Carlos Anez and Ondrej Nice, knocking them off 6-4, 6-2 to end their tournament in 5th place.
The same happened in #3 doubles as the Apaches combo of Anders/Powell bounced Makambwa/Mosehle with a 6-4, 6-2 final to give them a 5th place finish to cap off their freshman seasons in doubles.
The top of the standings remained the same after Thursday as ASA Miami and Tyler continue to sit unbeaten at all nine spots with 36 points while Seminole State checks in with 35. Seward sits in the next tier in 6th place with 24 points, 2.5 points behind 5th place Mesa and 2.5 points ahead of region rival and 7th place Cowley.
NJCAA NATIONAL TOURNAMENT DAY THREE RESULTS<http://www.sewardsaints.com/sports/mten/2015-16/files/2016Men-sNationalsDay3.pdf>
Roy Allen