Turpin Rebuilds
KSCB News - August 18, 2010 12:00 am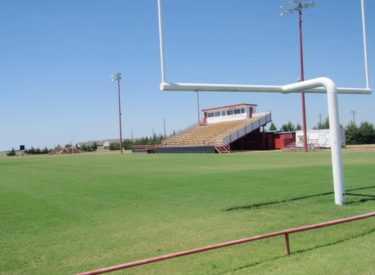 There is a young and fresh feel around the Turpin Cardinal locker room these days. The Cardinals graduated 11 seniors from last year's 5-5 team, most of whom played multiple years of varsity football. Five starters are back on both sides of the ball. Turpin is two years removed from a 7-4 playoff season, and will depend on unproven talent to qualify for the second week of November this season. Fifth year coach Mario Mendoza is going to a bone offense to utilize his team's speed which is evident each spring in track. Depth could be an issue at the Class A with 25 players out for football.
Key Cardinals include: sr. OT/DE Jake Zielke; sr. c/lb Andrew Bowers; jr. rb/lb Matt Mendoza; sr. tb-wr/cb Clinton Toney; sr. g/dt Payton Eggers; sr. fb/lb Juan Jose Olivares; and sr. wr-tb/olb Stern Douglas. Junior Bradley Kinser is the frontrunner to play quarterback.
The Cardinals will be featured during the Sportsguys Thursday morning on Talkradio 1270 and kscbnews.net.
2010 Schedule
Sept. 3- at Beaver
Sept. 10- Booker
Sept. 17- Shamrock
Sept. 24- at Hooker
Oct. 1- Fairview
Oct. 8- at Thomas
Oct. 15- at Texhoma
Oct. 21- OBA
Oct. 29- at Mooreland
Nov. 5- Beaver