Town Hall Meeting to Take Place Thursday
KSCB News - March 24, 2010 12:00 am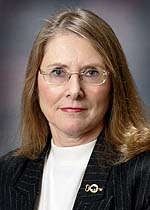 A Town Hall meeting is scheduled for Thursday at 7:00 pm at Ruffinos Restaurant. Sue Boldra, Republican candidate for 1st District U.S. Representative will speak to the group. Boldra is from Hays and is scheduled to meet with several local business's prior to the Town Hall meeting.
The second half of the program will feature Crystal Clemens who will be presenting a program on "goal setting" Crystal said she is excited about the possibility of getting this group to help set some goals for our community.
Also ballots will be available for selecting a name for the group. This will be fifth town hall meeting according to co-founder Jim Rice.
"Every meeting we have discussed names for the group. We finally have several names to choose from that our group attendees have suggested," Rice said.
"Come early and join your friends and neighbors for a great meal at Liberal's next Town Hall."