Texas County Run-off Election Results
KSCB News - August 24, 2010 12:00 am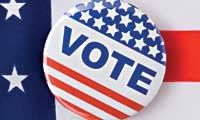 The race for Texas County Assessor and Insurance Commissioner came to an end Tuesday night.
Shortly after 7 p.m., each of the 15 precincts plus absentee ballots rolled into the Texas County Election Board to be counted and recorded.
While anxious spectators awaited the results, calls periodically came into the Election Board office wanting results as well.
The final precinct arrived with its votes at 8 p.m.
Unofficial totals for Insurance Commissioner are John Doak – 516 and John P. Crawford – 325.
Unofficial totals for County Assessor are Jerry Tucker – 496 and Judyth Campbell 379.