SWMC Welcomes New Family Medicine Physician
KSCB News - August 14, 2014 10:16 pm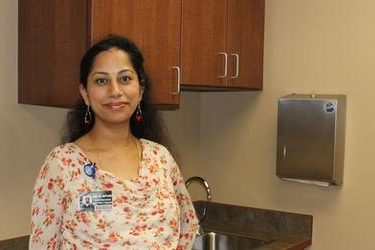 Southwest Medical Center is proud to announce the arrival of family medicine physician, Dr. Rohitha Inturi to the Liberal community.
Dr. Inturi was born and raised in India, where she learned at a young age the career path she would take after her father had a heart attack and passed away.
"I was 8 years old when he died. My father was the first person who laid the thought of being a doctor in my mind," Inturi explained. "As parents, you make plans for your kids and hope for them to be successful. My parents wanted my brother to be an engineer and for me to become a doctor, which we both did achieve."
Inturi says learning of her father's final moments in the hospital motivated her to enter the field of medicine, while her mother's support helped her along the way.
"It's my mom who really helped me understand what I was dealing with and how to go through my life to become a good person and achieve their dreams for me," she said. "My mom was our foundation, our support, our backbone – everything for us."
Dr. Inturi completed her undergraduate degree and medical school in India, where she also married her husband, Dr. Rama Chanda, before arriving in the United States to continue her studies. She worked on her master of sciences degree in clinical investigation at the University of Texas Health Science Center in San Antonio before entering her family medicine residency program at the University of Oklahoma College of Medicine in Tulsa, Oklahoma. She says her experience in the U.S. helped guide her towards family medicine.
"In India, the idea of family medicine hasn't really bloomed, so we don't know much about it. We know the main areas – general medicine, pediatrics, OB/GYN," she explained. "I'm someone who is very family oriented, so after I came here and learned more about family medicine – dealing with pediatric to geriatric-age patients, being more close to a family rather than treating individuals – that was something I found to be most interesting."
Dr. Inturi says her focus on family matters is the main reason she and her husband – who will be joining the Southwest Medical Center physician team as a hospitalist later this year – chose Liberal as their new home. After making the decision to relocate to Liberal earlier this year, the couple discovered they will be new parents with a set of twins due later this fall.
"The number one thing I was looking for was a place where we could start a family, as we're doing right now," she said. "I wanted the chance to start our family in a small and peaceful place, a place where my husband and I could finally be together. It's a great place for us to be."
Dr. Inturi will be located inside the Southwest Professional Physicians Family Medicine clinic at 305 W. 15th St., Suite 101 inside the Medical Office Building at Southwest Medical Center with nurse practitioner Linsey Carter. Dr. Inturi accepts most insurances, including Blue Cross/Blue Shield, Medicare, and Kansas and Oklahoma Medicaid. To make an appointment with Dr. Inturi, please contact
(620) 624-0705 .
You'll need Skype Credit Free via Skype