Sophomore Oriented Redskins Aim for Improved Golf Season
KSCB News - April 7, 2016 12:59 pm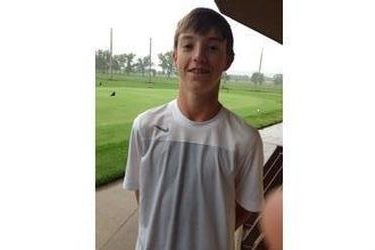 The Liberal High School golf team is already playing better than a year ago. Scores were lower almost across the board for the Redskins in their opening tournament at Buffalo Dunes in Garden City on Saturday. Cameron Riley shot an 82 while Dylan Shellenb erger had an 86, Sean Titus and 88, and Clint Peterson carded an 89. Having four score in the 80's is an improvement from recent years.
Third year head coach Eli Svaty had 16 out for golf. It's Svaty's seventh year in the golf program. The Redskins have three of their top four golfers coming from the sophomore class. The current Redskin varsity lineup includes:
Sophomore Cameron Riley
Junior Dylan Shellenberger
Sophomore Sean Titus
Sophomore Clint Peterson
Senior Caleb Brond
Senior Nate Vervalin
Riley made state as a freshman last season.
LHS hosts Meade, Hugoton, Guymon JV, and Dodge City JV Thursday at 4 at Willow Tree.
aturday, Apr 2, 2016
Tournament
9:00AM
Away vs. Garden City
Garden City High School
Thursday, Apr 7, 2016
Invitational
3:00PM
Dodge City,
Garden City,
Guymon,
Hugoton,
Meade
Liberal High School
Willow Tree GC
Friday, Apr 15, 2016
Invitational
9:30AM
Away vs. Guymon
Guymon High School
Monday, Apr 18, 2016
Invitational
1:00PM
Away vs. Hays,
Dodge City,
Garden City,
Great Bend,
Junction City,
Salina Central,
Salina South,
Topeka Seaman,
Topeka-West
Thursday, Apr 21, 2016
Invitational
3:00PM
Away vs. Dodge City,
Eisenhower,
Great Bend,
Hays,
Hays-Thomas More Prep-Marian,
Maize,
Topeka West,
Ulysses,
Wichita-East,
Wichita-North,
Wichita-Northwest,
Hutchinson
Dodge City Mariah Hills
Friday, Apr 29, 2016
Tournament
8:00AM
Away vs. Hutchinson
Hutchinson High School
Monday, May 2, 2016
Tournament
3:00PM
Away vs. Great Bend
Great Bend High School
Tuesday, May 10, 2016
Tournament
1:00PM
Dodge City,
Garden City,
Great Bend,
Hays
Liberal High School
Monday, May 16, 2016
Regionals
9:00AM
Away vs. TBA
TBA
Monday, May 23, 2016
State
9:00AM
Away vs. TBA
TBA