Skins Roll Past Tigers
KSCB News - September 14, 2013 7:20 am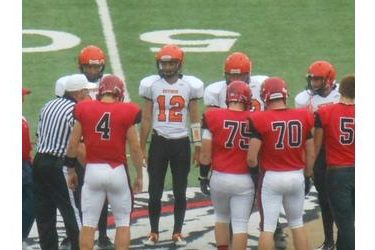 The Redskins took care of their business Friday night between the rain drops at the Cornlesen Sports Complex. Liberal built a 36-0 lead after one quarter and 50-0 at the half of a 56-0 win over the outmanned Guymon Tigers.
Britton Abbott tossed three touchdown passes to Trenton Hammon in the first half and Abbott rushed for three touchdowns. Liberal amassed 400 first half yards before the teams played with a running clock in the second half. Abbott was 14-25 for 254 passing yards and rushed for 65 yards while Rex Heronomous added 80 on the ground.
Abbott scored on the eighth play of the first drive from two yards out at the 9:31 mark. Liberal recovered an onside kick and quickly Abbott found Trenton Hammond for a 26 yard score at the 9:00 mark. Heronomous scored on a three yard run at the 5:21 mark. Abbout found Hammond on a quick slant in the endzone for a touchdown at the 1:54 mark. Mershek Wiltshire intercepted a pass and returned it about 50 yards for a score to make it 36-0.
Abbott hooked up with Hammond again as he was wide open for a 47 yard score at the 8:41 mark. An Abbott seven yard score at the 3:52 mark made it 50-0.
Abbott finished a third quarter drive with a one yard score for Liberal's only second half score. Liberal recovered three onside kicks after recovering two the week before at Ulysses.
The LHS defense allowed just 81 yards.
Liberal hosts 2-0 Hays and Guymon hosts 1-1 Hugoton Friday. Liberal's game airs on Talkradio 1270 and kscbnews.net. The Rowdy Crowd Show airs at Billy's Thursday night at 5:30 on 1270 and kscbnews.net.