Skins Experience Power Failure in Goddard
KSCB News - October 13, 2012 4:04 am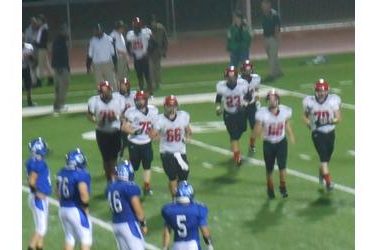 The Goddard Lions beat the Liberal Redskins 45-21 Friday night at Goddard Eisenhower. It was the first ever varsity football game at the new school because lightning knocked out power at Goddard High School. Goddard knocked the power of the Liberal Redskins building a 35-7 lead just before halftime in a game which was never close between two teams who both lost four consecutive games.
Punter Britton Abbott bobbled a snap as he was getting set to punt giving the Lions (3-4) the short field. Beau Fisher's TD made it 7-0. Dakota Driskell's 12 yard run around the end made it 14-0 at the 6:33 mark of the first quarter.
Goddard force a Britton Abbott fumble which would later result in a Fisher TD to make it 21-0. A Britton Abbott nine yard run made it 21-7 with 3:23 to play in the first quarter.
Goddard's Devin Bultman raced up the middle for a 15 yard run to make it 28-7 with 7:50 to play in the first half. Goddard forced Abbott's second fumble of the game with 6:12 to play in the half. Quarterback Collin Nevil, who was playing with a broken thumb, found 6'6" tight end Austin Chippeaux for a seven yard score to make it 35-7. Liberal quickly drove down the field and Britton Abbott found Chrystian Symons for a 22 yard score to make it 35-14 Goddard at the half.
Abbott tossed two second half interceptions. Goddard's second half scores consisted of a 27 yard field goal by Court Roland to make it 38-14 and a 23 yard run by Bultman who rushed for 217 yards. Britton Abbott capped off the scoring with a 56 yard run for a scored with 6:19 to play.
Liberal outgained Goddard 405-395 but LHS committed four turnovers which the Lions converted to 24 points.
Britton Abbott was 18-47 passing for 248 yards while Trenton Hammond caught nine balls for 164 yards. Abbott has passed for a school record 1,819 yards this season passing Slader McVey's 1,660. Abbott also rushed for 132 yards.
The win breaks a 15 game losing streak for Goddard against Liberal. It was their first win against LHS since 1990.
Liberal is 1-6 and hosts Goddard Eisenhower for homecoming Friday night at 7 on Talkradio 1270 and kscbnews.net.