Skins Break Out the Bats in Sweep Over Great Bend
Brock Kappelmann - May 10, 2017 7:31 am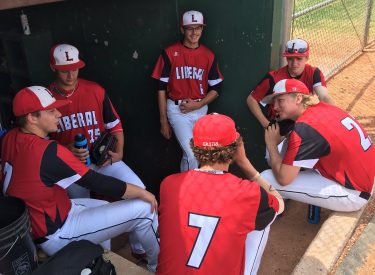 Liberal broke out Tuesday against Great Bend.  After six runs in five losses last week, the Redskins scored 26 runs on 32 hits in just 10 innings.  The Skins swept the Great Bend Panthers 11-1 in six and 14-2 in five Tuesday afternoon and evening the National Beef Family Sports Complex.
In game one, Cole Evans improved to 6-1 going five strong innings for the win.  Tucker Deaton pitched a scoreless inning.  The Redskins scored in every inning.  They scored one in the first when Evans singled home Cesar Burciaga.  LHS had three in the second as Cade Hinkle singled home a run and Burciaga tripled home a run to left center and scored on a wild pitch.  LHS had three more in the third.  Pancho Terrazas tripled home a run.  Alex Carrillo singled home two.  The Skins scored one in the fourth when Terrazas was beaned with the bases loaded.  The added a run in the fifth when Kaleb Wilmes singled home Evans.  LHS ended the game early with two in the bottom of the sixth for the run rule.  Burciaga and Evans singled home runs.  Burciaga, Carrillo, Evans, Wilmes, and Terrazas had three hits a piece.
The Redskins used the big inning in game two.  The Skins scored nine in the third.  Ten straight hitters reached base safely after one error, one walk, eight hits including three bunt hits.  Evans RBI double and two RBI triple highlighted the inning.  LHS added five in the fourth including Evans line drive home run over the left center field fence for his 10th of his career and fifth of the season.  Kaleb Wilmes pitched the first three innings then Braxton Hyde was dominant with six strikeouts the final two frames.
Liberal is 11-5 overall and 3-3 in the WAC while Great Bend is 7-11 and 2-6.  Liberal plays at Hays Thursday at 2 on 1270 and kscbnews.net.  If LHS wins both, they share the WAC with Garden City and Dodge City.