Seward's Silva Named KJCCC Player of the Week
KSCB News - October 9, 2012 6:33 am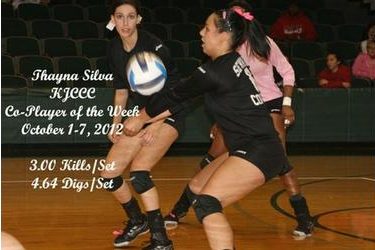 For the second time during her rookie season at Seward
County, Lady Saints freshman outside hitter Thayna Silva has been named
the KJCCC Player of the Week. This time she will share the honor with
Colby setter Maisy Munson after a week in which she averaged 3.00 kills
and 4.64 digs per set in a trio of Seward County matchups.
Silva continued to be rock solid for Seward County this
week, posting a pair of double-doubles in three matches hammering down
33 kills and pulling up 51 digs for the Lady Saints. Wednesday in a big
Jayhawk West win over Barton, Silva picked up her first double-double of
the week, notching 10 kills and a match high 19 digs for the Lady
Saints. On Friday against Clarendon she had just 8 kills but once again
shined on the defensive end with 17 digs in a three set win over the
Bulldogs. On Saturday at Colby, despite a Seward loss Silva was again
stellar, leading Seward with 15 kills and 15 digs to wrap up her big
week for the Lady Saints.