Seward's Allen Named KJCCC Player of the Week
KSCB News - April 8, 2014 12:59 pm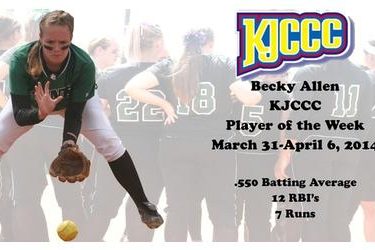 Following a week in which she hit .550 with 12 RBI's which included a win for her team over the #1 ranked team in the country, Seward County sophomore Becky Allen has been named the Jayhawk West Player of the Week for the second time this season.
Allen played a large role in a big week for the Lady Saints, hitting .550 with 12 RBI's in a 5-1 week for Seward. Monday against Lamar she had a hit in each game of the doubleheader with the Lopes, going 2 for 4 with a double and 2 runs scored in game two of the twinbill. Wednesday in a key Jayhawk West matchup with Butler she again had hits in both the front and backend of the doubleheader, but in game two she shined, going 3 for 3 with a double, a triple, and 3 RBI's as Seward knocked off the #1 ranked Grizzlies. On Saturday against Lamar she had a huge game one against the Lopes, going 3 for 4 with a grand slam while finishing with 6 RBI's in a Seward win.
Allen and the Lady Saints will be back at it this afternoon as they take on Clarendon in a non-conference doubleheader before taking the field once again this weekend in Colby for the annual Colby Tournament.
Roy Allen