Seward Tennis Improves to 4-0
Brock Kappelmann - February 20, 2017 7:04 am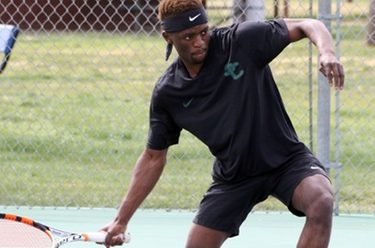 The #5 Seward County Saints cruised to 4-0 on the young season Saturday afternoon in Wichita, Kansas, knocking off a pair of four-year foes in Bethany and Newman by counts of 6-2 and 7-2, with three of their four points lost on the day coming to former Seward County players themselves.
The Saints took on Bethany to begin the day, taking a 2-1 lead after doubles play as Alex Mosehle and Gabriel Nery earned a close 9-8 win at #1 and Przemek Zielinski and Duro Opacic won 8-3 at #2 for Seward.  Bethany's point came courtesy of former Saint Alvaro Rengifo and Teodor Anthella at #3 who knocked off Claudio Quinones and Renato Santos 8-5 to cut the Seward lead to 2-1.
The headline match in singles was supposed to be at #1 as 11th ranked Ondrej Nice squared off against NAIA #23 Juan Mateus, but Nice dominated, winning the first 6-3 and taking the second 6-4 to put another point on the board for Seward.  Zielinski grinded through a 7-6 first set win at #2 and cruised 6-1 in the second to bring the Saints to within one point of victory and Ngoni Makambwa sealed it with an easy 6-1, 6-3 victory at #3 for Seward.  Once again, the Swedes only point in singles came from the former Saint Rengifo who took a three setter at #5 to close the match with the Saints taking it 6-2.
#5 SEWARD COUNTY/BETHANY BOX SCORE
In their second match of the day, Seward took on NCAA Division II #50 Newman University.  Again, Seward took a 2-1 lead after doubles play with another Saint grabbing the opponents only win. Opacic and Zielinski took an 8-4 decision at #2 and Santos and Benji Finet won 8-6 at #3 for Seward.  Former Seward National Champ Alejandro Gonzalez paired with Eduardo Dos Santos at #1 for Newman to earn an 8-4 win to make it 2-1 Seward after doubles.
Opacic got revenge on the former Saint with a 6-3, 6-2 win at #1 singles while Zielinski breezed through 6-1, 6-2 at #3 to give the Saints a 4-1 decision.  Dos Santos earned Newman's lone singles point at #2 with Nery, Makambwa, and Claudio Quinones all winning third set tiebreaks in the bottom three rungs on the singles ladder to secure the 7-2 win for the Saints.
#5 SEWARD COUNTY/#50 NEWMAN BOX SCORE
The Saints improve to 4-0 on the year with the wins, with three of their victories coming over NCAA Division II ranked foes.
Seward will take the court again on Friday when they travel to Emporia to take on the Hornets of Emporia State, before opening their home schedule Saturday at Blue Bonnet Park in Liberal against Bethel.