Seward Star Signs with Stars of OCU
KSCB News - May 3, 2016 2:22 pm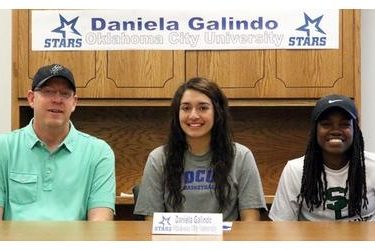 Seward County sophomore sharpshooter Daniela Galindo made her four year choice on Tuesday in the All-American Room at SCCC, signing a National Letter of Intent to play at Oklahoma City University next season.
A 2nd Team All-Jayhawk and 2nd Team All-Region VI selection during her sophomore season for the Lady Saints, Galindo finished second on the team, scoring 12.1 points per game, while leading the club with 2.2 steals per contest. Galindo banged home 70 three pointers, which ranked sixth in the conference in 2015-2016 despite missing significant time due to injury in the second half of the season. She finishes her Seward County career with 151 career three point marks, ranking her second in school history, while her 70 long balls this season tie her with Saints Hall of Famer Kim Ortega for seventh all-time in a single season. Galindo's shining moment during her stay in Liberal came early this season when she shattered a school record with 50 points against the University of Southwest, also raining in 10 three pointers in the game to break a second school record in the victory.
Galindo heads to OKC where she will play for veteran Head Coach Bo Overton and the Stars for the next two seasons. In his first season at OCU, Overton led the Stars to a 20 win campaign and a trip to the Sooner Athletic Conference Championship Game before a short stay at the NAIA National Tournament. The Stars had eight underclassmen on their roster this season, giving them a chance to have an experienced group in 2016-2017.
With a smile on her face throughout, Galindo spoke about her Seward memories at Tuesday's press conference. "There was never a time where we weren't laughing" Galindo said when asked what she would miss about her Seward teammates. Lady Saints Head Coach Toby Wynn said of the guard "first and foremost, OCU is getting a great person with Daniela. Secondly they are getting a fierce competitor on the basketball floor, and thirdly, they are getting someone who can score in a number of different ways and has one of the prettiest shots that I have ever seen."
Roy Allen