Seward Softball Owns KJCCC Awards
KSCB News - March 10, 2011 6:49 am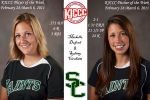 Off to a 13-2 start to the 2011 season, the Seward
County Lady Saints have been piling up awards from the KJCCC in the
early going and after sweeping the weekly conference awards for the
second time in three weeks again this week, they have now claimed 5 of
the 6 total awards so far this season. Michelle Duford was named the
conference's Player of the Week this week after hitting .571 in five
Lady Saints games. She was 3 for 4 in Seward's opener against Trinidad
on Monday and followed that up by scoring 4 runs in the second game of
the double header against the Lady Trojans. On Sunday the Lady Saints
freshman would lead them to the Pratt Tournament Championship as she
went 2 for 3 with a pair of doubles and 2 RBI's in Seward's semifinal
win before extending her hitting streak to a team high 7 games in the
title game win. Sydney Cicchetti picks up her third straight Pitcher of
the Week award after continuing to pile up the numbers on a sophomore
season that has seen her get out to a 7-1 start. On Saturday against
Northern Oklahoma Cicchetti threw all 7 innings of the Lady Saints win
over the Mavs while allowing just 4 hits and no earned runs while
striking out 6. Her best game came Sunday when she struck out a career
high 14 while allowing 4 hits and 1 run in the Lady Saints Pratt
Tournament Championship Game win over the host Lady Beavers.
In other news, the softball double header against Frank Phillips on Friday
has been cancelled.