Seward Remains Third at NJCAA Tennis Tournament
Brock Kappelmann - May 11, 2017 6:41 am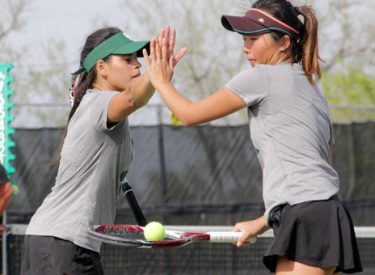 The Seward County Lady Saints remain in third place after three days of action at the NJCAA National Tournament in Tucson, Arizona, piling up 4.5 more points to end day three with 30.
Thalita Rodrigues continued her march to the final four in #1 singles on Tuesday, upending 4th ranked Celia Morel of Abraham Baldwin in a three set thriller in the quarters. Rodrigues took the first 6-4 before dropping a close second 6-7, and gutting out a 7-5 win in the third to make her way to the semifinals. Wednesday she will look for another upset, taking on her third straight top 10 ranked opponent in Hillsborough's Ceire Mullins.
Sarah Manseri also pushed her way to the final four in #2 singles, winning her third straight pushover in a 6-3, 6-1 romp over Juliette Mary of Eastern Arizona in the round of eight. Manseri advances to the semifinal round where she will take on 20th ranked Emily Chang of ASA with a trip in the National Championship match on the line.
At #3 singles, Lisa Suzuki faced a tough task as she battled Kokoro Chishaki in a rematch of a Spring Break match between the two in Pensacola, Florida. Chishaki took the first 6-2 before Suzuki stormed back for a 6-2 win of her own in the second, but Suzuki ran out of gas in the third, falling 6-0 to drop the match 2-1. Suzuki wraps up her freshman season with the Lady Saints with a 5th place finish in the #3 draw.
Steffany Bermudez continued her promising play at #4 singles, pulling off an upset victory over Carla Lachasseigne of Seminole State 6-2, 7-5 in the quarterfinals to move onto the round of four. Bermudez will take on Bianca Vitale of Broward in the semis with a chance to play in the National Championship match in the balance on Wednesday.
Martina Borges came out swinging with a 6-2 first set win over Kaeli Smashley of Broward in the quarterfinals of the #5 bracket, but Smashley recovered and took it right back at her with a 6-1 second set and a 6-4 third set win to take the match 2-1. Borges finishes 5th in the tournament.
Fernanda Santana picked up another half point in the #6 consolation bracket with an 8-0 win over Rebekah Larson of Eastern Arizona, she will play for the backdraw title Wednesday morning against North Central Texas' Kelsea Baksh.
Rodrigues and Suzuki ran into a buzzsaw in the #1 doubles quarterfinals, falling by matching 6-2 scores against the top ranked duo in the country from Tyler to finish their season in 5th place.
Manseri and Bermudez teamed at #2 doubles for another impressive win in their round of eight matchup with Meridian, taking a 6-3, 6-1 decision to climb one win away from playing for a National Title on Thursday. In the semis, they will take on 21st ranked St. Petersburg Wednesday afternoon.
The storied careers of Tadi Mrewa and Madison Hoelting came to a close on Tuesday as the pair dropped a 7-5, 6-2 decision to Broward in the quarterfinals of the #3 doubles draw. The duo finishes their sophomore seasons 5th in the country at #3 doubles.
Tyler has pushed out to a two point lead over ASA Miami in the tournament standings with 41 points after three days. Seward fits in behind those two, tied with Broward and St. Petersburg with two days to go.
NJCAA NATIONAL TOURNAMENT DAY THREE RESULTS<http://www.sewardsaints.com/sports/wten/2016-17/files/WNJCAA3.pdf>
Roy Allen