Seward Dusts Off Barton
KSCB News - March 23, 2011 6:49 am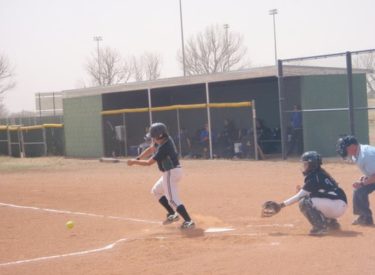 With the wind gusting as high as 56 miles per hour and dust blowing up stalling the game multiple times, the Seward women didn't seem to notice. They dusted off Barton 15-0 and 18-1 in two run rule games Tuesday afternoon at Lady Saints Field. In game one, Seward scored eight in the first powered by Kelsea Blackstock's homerun which blew over the left field fence. Jill Grounds was 3-4 with three RBI's and Michelle Duford was 2-3 with three RBI's. Sydney Cicchetti allowed just two hits.
In game two, Seward scored seven in the first and eight in the fourth. Leah Sitter was 4-4 with three RBI's while Kelsea Blackstock went 4-4 with another homer and Jill Grounds was 3-4 with six RBI's including a homerun which hit the yellow piping on the top of the fence and blew over the fence for the round tripper. Blaire Taylor allowed just two hits for the win.
Seward is 21-6 overall and 2-2 in the Jayhawk West. Barton is 1-13. The Saints host Otero Thursday at 1 p.m.