Seward Catcher Collects NBC Awards
KSCB News - August 12, 2014 3:42 pm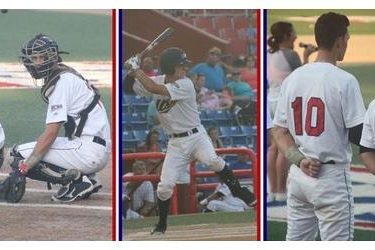 Even with the 2014 baseball season well done and gone, Seward County catcher Brent Williams just keeps adding awards to his already impressive resume. Midway through the spring season, Williams found out that he was selected to participate with the NJCAA National Team in the annual NBC World Series and Williams made the most of it as at tournaments end, the soon to be sophomore backstop was named an NBC All-American and was also awarded the "Just Block It" award, given to the top catcher at the storied tournament.
Williams starred for the National Team, hitting .364 in six contests, leading them to an impressive 3rd place finish in the tournament. His .364 mark ranked in the top 10 in the tournament for hitters with at least 20 at bats and clip was good for second on the NJCAA team. Williams had hits in five of the six games for the NJCAA squad, notching three multi-hit contests. He finished the tournament with 6 RBI's which led the National Team and was good for 7th overall in the tournament. He had three multi-RBI nights, driving in a pair of runs in NJCAA wins over the San Francisco Seals, the Haysville Aviators, and the Hays Larks. The NJCAA Division I record holder for doubles in a season didn't forget the two bagger either, collecting 3 doubles, which was 3rd most in the tournament.
Williams will go into his sophomore season with the Saints boasting a resume which now includes 1st Team All-American, NBC All-American, Jayhawk West Freshman of the Year, 1st Team All-Region VI, and 1st Team All-Jayhawk West among other things.
Williams and the Saints will report to campus at Seward County this weekend with fall workouts beginning on August 18th and their first game action of the exhibition season coming on August 31st against Dodge City.
Roy Allen