Severe Weather Expected Today Thru Saturday: UPDATE
KSCB News - April 12, 2012 1:27 pm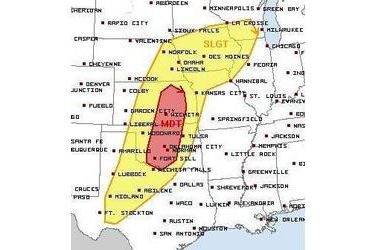 The next few days could bring large hail, gusty wind, and isolated tornadoes to much of Southwest Kansas.
A tornado watch has been issued for Western Kansas until 9:00 p.m. Central time Thursday. Cities in the watch area include Colby, Goodland and Scott City.
A dryline/cold front will develop in Western Kansas and begin its movement eastward through the day on Thursday. Western Kansas into central Kansas will have the right atmospheric conditions to see severe weather mainly Thursday afternoon.
Southwest Kansas will have the highest chance of seeing isolated
tornadoes Thursday afternoon specifically areas south and west of Scott City to Great Bend to Pratt. Wichita and locations east of I-135 could see strong thunderstorms through the day on Thursday, but the highest threat for severe weather will be for
western Kansas.Much of Western Kansas is under a slight risk of severe weather Thursday.
This cold front will be very slow to move through Kansas. Friday, the front will be farther east through central Kansas bringing the highest chance for severe weather into central and eastern Kansas. Again, any storms that develop will have the potential of large hail, gusty wind, and isolated tornadoes.
By Saturday, the front will very slowly continue its eastward movement. Again, severe weather will be possible Saturday afternoon for central and eastern Kansas, including metro Wichita. The National Weather Service has already placed a large area, from the Oklahoma/Texas border through northern Kansas, under a moderate risk of severe weather.
By Sunday, the front will push out of western Kansas, into eastern Kansas and western Missouri taking the highest severe threat with it. If this front slows down, Sunday could be another severe weather day for central and eastern Kansas.