Seven Lady Saints Named All Jayhawk
Brock Kappelmann - May 11, 2017 6:44 am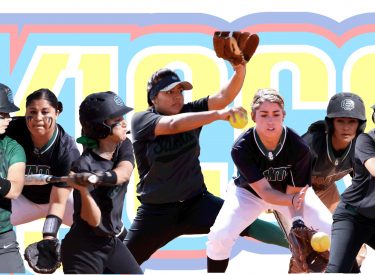 After wrapping up a 43 win season on Sunday, seven Seward County Lady Saints were honored by the Jayhawk Conference on Wednesday as Monique Ashley, Kristyna Garcia, Jullian Atteberry, Sydney Epp, Maycee Koontz, Taylor Kathler, and AJ Cuellar were all named to the All-Jayhawk West team while Ashley was named the league's Freshman of the Year.
Monique Ashley leads the seven Seward selections as the rookie from Gallup, New Mexico was named the Jayhawk West Freshman of the Year and a 1st Team All-Conference selection. Ashley put up eye popping numbers for the Lady Saints in 2017, going 27-6 with a 2.42 ERA and 217 strikeouts in 202 1/3 innings pitched. Ashley flirted with the Jayhawk Conference triple crown as her 27 wins and 217 strikeouts both led the conference while her 2.42 ERA ranked fourth.
Joining Ashley on the 1st Team list was third baseman Kristyna Garcia. Garcia finished her sophomore campaign hitting .408 with 13 home runs and 56 RBI's to tie for the team lead. Her 13 bombs this season ranked sixth in the league while her 56 driven home were fifth most. She wraps her Lady Saints career as one of just 10 players in school history to finish with an average North of .400 while her 18 home runs rank third and her 105 RBI's are seventh most by a Seward slugger.
Shortstop Jullian Atteberry was named a 2nd Team All-Conference selection. Despite battling a thumb injury for a good chunk of the season, Atteberry still put up big numbers for Seward as a freshman, hitting .350 with 11 home runs and a team best 56 RBI's. Her 11 home runs were good for eighth in the league while her 56 RBI's tied her with Garcia for fifth place on the league leaderboard.
Three Seward outfielders were named to the 2nd Team as well, led by Sydney Epp who finished with a team best .416 batting average and 18 doubles this season. Epp also clubbed seven home runs and drove home 44 for the Lady Saints. Her 18 two-baggers were third most in the Jayhawk Conference while her 26 extra base hits ranked in the top five.
Left fielder Maycee Koontz was also a 2nd Team pick, hitting .351 with 17 doubles and 29 RBI's out of the leadoff spot for the Lady Saints. Koontz's 17 doubles put her right behind Epp for fifth in the league in that category while her 71 hits on the year ranked seventh.
The final of the three outfielders to get the nod on the 2nd Team for Seward was Taylor Kathler. Kathler batted .314 and scored 44 runs for the Lady Saints while stealing a team best 29 bases. Her 29 bags were fourth most of any base stealer in the league. Kathler swiped 49 career bases for Seward, putting her fourth in school history in the category.
Rounding out the seven choices for the Lady Saints was second baseman AJ Cuellar who was the lone Honorable Mention pick for Seward. Cuellar played in 48 games for Seward, hitting .317 with 12 doubles and 22 runs driven home. Selfless at the dish, Cuellar also registered eight sacrifices in 2017 to lead the team and rank fifth in the league.
Only Butler had more All-Conference picks than the Lady Saints as the Conference and Region Champion Grizzlies placed a record 10 on the teams.
2017 ALL-JAYHAWK WEST SELECTIONS<http://www.kjccc.org/sports/sball/2016-17/2017_ALL_KJCCC_D1_SELECTIONS.htm>
Roy Allen