Senators Brownback, Roberts Release Holds on Nominations
KSCB News - September 16, 2009 12:00 am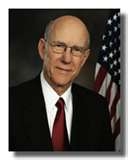 WASHINGTON ź?? U.S. Senators Sam Brownback (R-KS) and Pat Roberts (R-KS) today removed legislative holds on key Administration appointees to the Departments of Defense and Justice following dialogue with Administration officials.
The Senators released the following joint statement:
ź??We have recently had discussions with senior Administration officials regarding the possible relocation of Gitmo detainees to Fort Leavenworth, Kansas. Based upon these discussions, we have had the opportunity to present the concerns of many Kansans regarding the challenges and obstacles to moving detainees to Fort Leavenworth, along with the severe negative impact it would have on the educational mission of the fort and our relations with foreign nations.
ź??We believe that the Administration has a good understanding of obstacles and concerns and is giving them proper consideration. In a good faith effort to continue moving this dialogue forward, we are releasing our holds on all Department of Defense and Department of Justice nominees. We are confident that because of this good faith dialogue, detainees will not be transferred to Fort Leavenworth.ź?ť