Sedgwick County Deputy Dies After Being Shot
KSCB News - September 29, 2009 12:00 am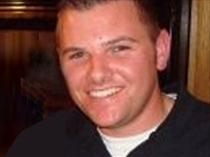 Authorities say Sedgwick County Sheriff's Deputy Brian S. Etheridge died after he was shot in the chest near South Rock Road Monday afternoon.
Officials are investigating the circumstances behind the shooting, but say the deputy was at a home in the area for a reported larceny when he was shot. Officials are now looking into the possibility that the deputy was set up and are interviewing witnesses.
The deputy was shot twice (once in the chest and once in the lower leg area) and taken in critical condition to a local hospital. It was hoped that he would survive, but died after surgery from his injuries.
Sheriff Bob Hinshaw says Etheridge was 26 years old, married and had been with the sheriff's department for just over a year.
The suspect is reportedly 27 years old and officers say he had recently been released on parole.
An area about one square-mile area was secured by hundreds of law officers as the suspect was believed to have been hiding in a residence or a field in that area.
Late Monday afternoon, the suspect was shot by law enforcement and taken to a local hospital in very critical condition and later died at the hospital.