Saints Toy with Labette
KSCB News - March 2, 2011 7:17 am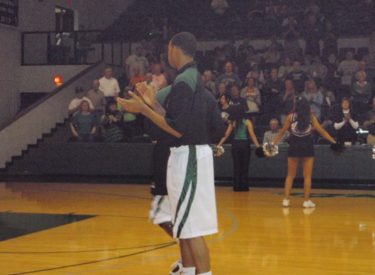 Bryan Zollinger said after the 99-63 win over Labette he hated this game. The Seward head coach indicated it's tough to keep up intensity and play the game the right way against a team like 2-29 Labette. The game had the feel of a game against a prep school in early November, but was instead the start of the Region 6 Tournament. Labette brought just six players after three players were kicked off last week. They finished the last second of the game with four players after two Cardinals fouled out. Seward won 99-63 to advance to Wichita and play Kansas City Saturday afternoon at 1 p.m. on B107.5 and kscbnews.net.
Marky Nolen scored 20 points and grabbed 12 rebounds in his last game in the Green House. Jeremy Jones added 16 points one day after Arizona State coach Herb Sendek visited Liberal. Marquez Patterson played his final Green House game to the tune of 13 points. Rafriel Guthrie added 12 points and eight rebounds. Seward shot 60 percent and 68 percent in the second half. Seward is 25-6.
Region VI D-I Men's 1st Round
Tue. Mar. 1-Winners Advance To Wichita
Coffeyville def Colby 86-65
Garden City def Neosho County 86-62
Independence def Butler 67-64
Hutchinson def Fort Scott 51-39
Seward County def Labette 99-63
Kansas City KS def Dodge City 80-71
Allen def Cloud County 77-68
Cowley def Barton County 65-63 OT
Saturday at Koch Arena in Wichita
Seward vs. Kansas City 1 p.m.
Allen vs. Cowley 3 p.m.
Hutchinson vs. Independence 5 p.m.
Garden City vs. Coffeyville 7 p.m.