Saints Stymie Pirates
Brock Kappelmann - January 4, 2018 7:18 am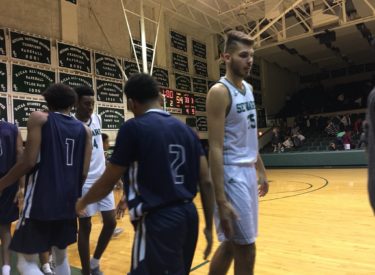 Seward's defense is the best defense statistically in the Jayhawk Conference.  No one allows less points per game and a lower opponents shooting percentage than Seward.  They displayed that defense in the Green House on Wednesday night in a 63-52 win over the visiting Independence Pirates.
Seward forced Indy to 33 percent shooting and 24 turnovers.  The Pirates led 17-12 early before a 20-4 Saints run led to a 32-21 lead.  The Saints led 43-27 at halftime.  The Saints led throughout the second half.  Isiah Small scored 16 points and 13 rebounds.  Ke'Sean Davis scored 16 and was ejected from the game for a technical.
Seward is 10-4 overall which surpasses last year's win total for nine.  The Saints is 6-4 in the Jayhawk and is two games behind first place Hutchinson, Barton, and Cowley.  Indy is 7-6 and 4-6 in the Jayhawk.  Seward plays at Colby at 8 Saturday night on 107.5 and kscbnews.net.