Saints get Dress Rehearsal Tuesday Night
KSCB News - October 26, 2009 12:00 am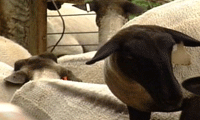 LIBERAL, Kansas- The Seward County Community College Saints and Lady Saints basketball teams will be hosting the 5th Annual Saints Bookstore Basketball Benefit Night on Tuesday, Oct. 27, at 6:30 p.m. at the Green House on the campus of SCCC/ATS. Admission to the event is free, with all proceeds going to support the Big Brothers/Big Sisters of Haskell, Stevens, and Seward Counties. Donations will be accepted at the door and at the concession stand.
The night will officially begin at 5:45 p.m. with both basketball teams signing autographs in SW229 C&D (upstairs conference rooms) for the public to attend. FREE posters of the Menź??s and Womenź??s basketball teams will be handed out and the public can have the Saints and Lady Saints autograph their posters. The public will also get a chance to meet the Cheerleading team and Dance team before the start of the benefit night in the gym.
The Basketball Benefit Night will showcase the Seward County Saints and Lady Saints basketball teams as they will be introduced and both teams will scrimmage for 12 minutes at the end of the night. The Cheerleaders and Saintsations Dance Team will also be introduced and perform their first routine of the school year. There will be a free-throw contest with Saints coaches Bryan Zollinger and Ryan Stock vs. Lady Saintsź?? coaches Toby Wynn and Penny Jones. The Saints and Lady Saints will square off in a team three-point contest and dribble relay contest as well as a friendly (or not so friendly) game of PIG. Also come with your cameraź??s ready as there will be a slam dunk contest between four high-flying Saints players. FREE Saints Basketball T-Shirts will be thrown out throughout the night thanks to the Saints Bookstore. Starting at around 5:00 anyone who purchased a brisket from the Booster Club brisket sale can also pick up their brisket from the dock right outside the gym. The Saints and Lady Saints will officially open their seasons Nov. 6, hosting the Pepsi Classic at the Green House.