Saints Coaches Put on Ice Monday
KSCB News - August 26, 2014 1:31 pm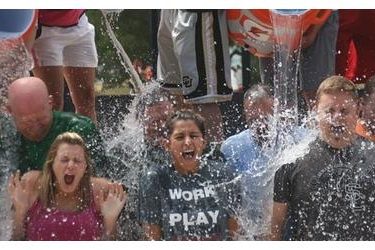 The Seward County Athletic Department got into the craze that is the ALS Ice Bucket Challenge on Monday, as they stood together under a looming group of their student-athletes who couldn't wait to drench their coaches and administrators with the freezing cold water.
The department came together to take the challenge after Assistant Baseball Coach Mike Davidson called them out following a challenge of his own. The group of coaches and administrators took the challenge in memory of longtime supporter and Saints Hall of Fame member Charles Brownlee who lost his long, hard fought battle to ALS last October.
Seward County Athletic Director Galen McSpadden said of the event "ALS is an issue that is very close to all of us here at Seward County, having lost great supporters and friends like Charles Brownlee and Robert Miles to the disease. While this Ice Bucket Challenge is certainly something that has brought smiles to many, we need not to lose focus on what it is all about, and that is finding a cure for this terrible disease. We hope that this will help bring awareness to ALS and continue the outpouring of monetary support that has come to the ALS foundations in the recent months, so that hopefully one day, we will have a cure for the disease."
The department challenged the Seward County Community College administrators, the Region VI Directors, Jayhawk Conference Commissioner Bryce Roderick, and all of their former student-athletes to participate.
To watch the video of the Saints Ice Bucket Challenge, CLICK HERE<https://www.youtube.com/watch?v=T7HBvSYRd4U&feature=youtu.be>
Roy Allen