Rotolo, Olvera, and Mellen Gear for KBCA Game
KSCB News - August 4, 2009 12:00 am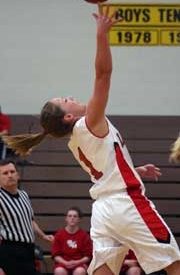 Liberal's Hannah Rotolo will be teamed with Vivian Olvera of Southwestern Heights and Heights coach Barry Mellen for the KBCA All Star Game Wednesday night at 6:00 PM at Washburn in Topeka. Rotolo scored 12 points a game and averaged five steals per game for 21-2 Liberal. She signed at Barton.
Olvera helped lead the Lady Mustangs to a 25-1 state championship season. She led a balanced scoring attack at 12 points per game. She signed at Tabor.
Barry Mellen will coach the South after his 24th year coaching at Heights. He won the state title last year in 3A and took the 2A title in 1992. He has led Heights to state 13 times.
Two Lady Saints will play for the North team Wednesday night. Morgan Skomal of Haven and Kendra Spresser of Hoxie are on the North team. Skomal is a 5'10" wing player while Spresser is a 5'6″ guard.
North:
#4 Brittney Lang – Lansing
#5 Morgan Skomal ź?? Haven
#10 Kendra Spresser ź?? Hoxie
#11 Whitney Taylor ź?? Ellis
#12 Laura Kinderknecht ź?? St. Marys
#14 Katelyn Schmidtberger ź?? Sacred Heart
#21 Taylor Bird – Lawrence
#23 LaSharra Riley – Washburn Rural
#24 Nicole Rockhold – Oskaloosa
#32 Catherine Carmichael ź?? Manhattan
#34 Mollie Winkler ź?? Centralia
#35 Ciarra Washington ź?? Gardner-Edgerton
Coaches: Bill Annan ź?? Washburn Rural; Derek Holmes ź?? Concordia
Kevin Kinderknecht ź?? St. Marys
South:
#1 Hannah Rotolo – Liberal
#4 Rachel Hanf ź?? Paola
#5 Vivian Olvera ź?? Southwestern Heights
#10 Taelor Karr – Paola
#11 Lindsey Keller ź?? Goddard
#14 Abby Fawcett ź?? Bishop Carroll
#20 Alisha Fanshier ź?? St. John
#21 Julia Marshall ź?? Bishop Carroll
#23 Haley Epperson – Eudora
#31 Bethany Cornwell ź?? St. John
#35 Joanna McFarland – Derby
#41 Kara McFarland – Ottawa
Coaches: Barry Mellen ź?? Southwestern Heights; Dan Smith ź?? St. John
Jason Tatkenhorst ź?? Great Bend