Roberts Backs Moran In Kansas Senate Race
KSCB News - August 23, 2010 12:00 am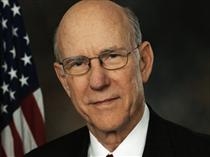 Kansas Congressman Jerry Moran has picked up the backing of his longtime mentor in the race for U.S. Senate.
Republican Sen. Pat Roberts endorsed Moran during a ceremony Monday at the Kansas Statehouse. Moran faces Democrat Lisa Johnston, a Baker University administrator, in November for the Senate seat being given up by Republican Sam Brownback.
Roberts says Moran would take Kansas values to Washington as a buttress against the Democratic control of Congress and the policies of President Barack Obama.
Moran currently represents the state's 1st Congressional District, which Roberts represented before his own election to the U.S. Senate.
Moran defeated Congressman Todd Tiahrt (TEE'-hart) earlier this month in the GOP primary. Roberts said had Tiahrt won the nomination, he would have endorsed him for the Senate.