Retired Supreme Court justice to give KU speech
KSCB News - April 9, 2010 12:00 am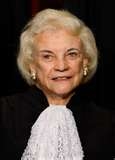 Retired Supreme Court justice Sandra Day O'Connor will spend two days next week on the University of Kansas campus.
On Monday, she'll take part in an event called "An Evening with Justice Sandra Day O'Connor." It will be presented as a fireside chat between O'Connor and Judge Deanell Reece Tacha of the U.S. Court of Appeals for the 10th Circuit. The talk Monday night at the Dole Institute of Politics is not open to the public.
O'Connor also plans to be meet with law students and faculty during her visit.
Law school Dean Gail Agrawal clerked for O'Connor at the Supreme Court during the 1984-85 term.
O'Connor was appointed to the court by President Reagan and was the first female member of the court. She retired on Jan. 31, 2006.