Redskins Win Flag Fest with Guymon
KSCB News - September 12, 2015 7:22 am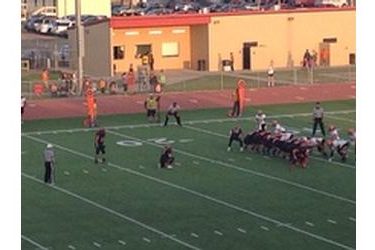 In a game of personal fouls, over 100 penalty yards by both teams, and one player ejection, Liberal rose from the rubbish to win their home opener 30-21 over Guymon Friday night at the Cornelsen Sports Complex. Guymon was penalized for about 140 yards while Liberal had about 115 penalty yards. It was a 23-21 game until Stevie Lira's touchdown run with 29 seconds left.
In the first quarter, neither team scored. LHS missed a 32 yard field goal. With first and goal at the Guymon seven, LHS fumbled and the Tigers recovered at the two. Hasik's quarterback sneak at the 10:23 mark gave LHS the lead in the second quarter. Victor Legarda's five yard run with 8:59 to play tied it at 7-7. Payton Emery's four yard run at the 7:03 mark made the scored 14-7 after the PAT. LHS quarterback Jared Hasik was injured after the play. Juan Rodriguez stepped in at quarterback and led LHS on a scored drive capped by an Emery 13 yard run with 28 seconds to play in the half. Victor Monarrez recovered a fumble with seven seconds left allowing Liberal one passing play at the end of the half which was tipped incomplete.
Legarda capped Guymon's first second half drive with a one yard run at the 9:33 mark to make it 20-14. Carlos Ramirez booted a 32 yard field goal through the south uprights to make it 23-14. Ethan Chacon intercepted a pass with 3:37 to play in the third. But Guymon's Baily Homan intercepted a Rodriguez pass. Guymon quarterback Jacob Santo lofted a 38 yard touchdown pass to Jovan Ochoa with 7:53 remaining in the game to make it 23-21. That score stood until Lira's 35 yard TD run with 29 seconds to go.
Liberal had 366 yards offense while Guymon had 211. Hasik was 6-10 for 84 yards and rushed for 73 yards and a score. Rodriguez had 66 yards on the ground while Lira and Emery had 58 and 57 yards rushing respectively. Emery had two TD's and Lira had one. Guymon's Victor Legarda rushed for 95 yards.
Liberal is 1-1 and has won 16 consecutive games over Guymon. The Tigers are 1-1. Liberal hosts Hays Friday at 7 on 1270 and kscbnews.net. Guymon hosts Dalhart.