Redskins Stay Hot with Fourth Straight Win
KSCB News - February 18, 2012 11:07 pm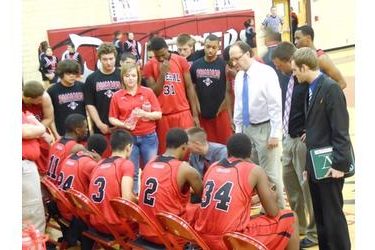 Triple overtime changed everything. Liberal was 3-11 and trailing Great Bend February 3 at the Big House. But the Skins won 77-75 in triple overtime and haven't looked back. LHS won their fourth straight Saturday night with a 54-42 win in Great Bend. It's Liberal's second straight win at Great Bend.
Panther leading scorer Jace Bowman was ejected from the game in the second half after a second double technical. Kenlee West and William Ross were also given "T's" for trash talking with Bowman who dropped 28 on LHS February 3 but was frustrated Saturday night.
LHS raced out to a 10-5 lead and led 10-8 after one quarter. LHS led 18-13 in the second quarter and took a 20-19 lead into halftime. GBHS took a 23-20 lead early in the third quarter before the Redskins reeled off a 10-0 run keyed by steals and ensuing layups from Britton Abbott and William Ross.
The Redskins won despited 17 turnovers and 15-24 shooting from the free throw line.
DeVondre Livingston scored 16 and scored in double digits for the eighth straight game. Osvaldo Villareal scored in double digits for the sixth time in seven games and scored 12. William Ross scored 13.
LHS is 7-11 overall and 3-3 in the WAC. The Panthers fall to 5-14 overall and 1-6 in the WAC. The Redskins are tied with Salina South for third in sub state.
Liberal hosts Garden City Tuesday for Senior Night. National Beef bought out the game.