Redskins Break Out in Home Opening Sweep
KSCB News - April 2, 2014 6:44 am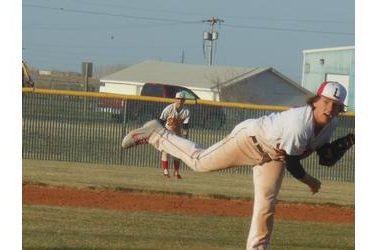 The Liberal Redskins got two much needed wins over the Ulysses Tigers Tuesday at the Liberal Baseball Complex. LHS topped Ulysses 16-1 and 10-1.
In game one, LHS scored two in the first, seven in the second, four in the third, and three in the fourth in a run rule win. Collin Ware pitched LHS to the win going five innings for the win allowing five Ulysses hits. Jared Hasik led the offensive attack going 4-4 with three RBI's. Law Greiner was 3-3 with two RBI's and Cristian Erives was 2-4. Sylman Pando delivered a bases loaded base clearing hit.
Liberal got off to a good start in game two as well scoring four in the first, two in the second, one in the third and fourth, and two in the sixth. Hasik was solid on the mound going five innings with five strikeouts and four hits. Jared Fox worked two scoreless innings. Hasik was 2-3 with a triple at the plate. Lorenzo Pando was 2-4. The Skins were aided by seven Ulysses errors.
LHS is 2-3 and Ulysses is 0-2. Both teams started primarily sophomores in the double header.
The Redskins open WAC play at Great Bend Tuesday.