Redskin Spikers See Tough Competition at Manhattan
KSCB News - October 11, 2009 12:00 am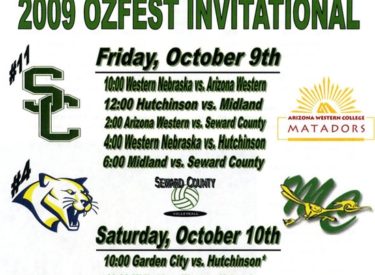 The road trip served its purpose. Liberal travels to the Manhattan High Volleyball Tournament every fall with one clear purpose. Face tough competition from eastern Kansas. Mission accomplished. Liberal lost to the third ranked team in 6A Manhattan (25-18, 25-9). LHS also lost to Shawnee Heights (25-15, 25-20), Rossville (25-27, 25-13, 25-16), and Olathe East (25-8, 25-18). LHS beat Topeka Highland Park (25-14, 25-22). Liberal is 20-11 and competes in the WAC Tournament Saturday at Garden City.
WAC Tournament Schedule
Round 1 – 10:00 Garden City vs. Dodge Great Bend vs. Liberal Hays
Round 2 ź?? 11:00 Garden City vs. Hays Liberal vs. Dodge Great Bend
Round 3 ź?? 12:00 Hays vs. Liberal Dodge City vs. Gr. Bend Garden City
*Following the 3rd round of matches we will take a 30 minute lunch break prior to
beginning the 4th round.
Round 4 ź?? 2:00 Garden City vs. Liberal Hays vs. Great Bend Dodge City
Round 5 ź?? 3:00 Garden City vs. Great Bend Hays vs. Dodge City Liberal
Teams playing their first match will have 20 minutes of warm-up time, after that there will be a 10 minute warm up between matches.
Tournament competition tiebreakers will follow KSHSAA rules:
1. If two teams tie, the team defeating the other in play will be the winner.
2. If three or more teams tie, the tie will be broken by adding the number of defensive points allowed in all games and divided by the total number of games played. The team allowing the fewest defensive points will determine the first-place team, the next fewest defensive points will be the second place team, etc.