Redskin Runners Break Records in Guymon
KSCB News - October 3, 2012 6:47 am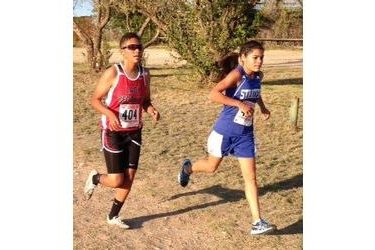 Redskin Runners Break Records
The Liberal Redskins Cross Country teams competed in the 8th Annual Rattlesnake Run in Guymon, Oklahoma Tuesday. Liberal was among thirteen other teams from Kansas, Oklahoma, and Texas who set out to conquer the hills of the course. The races were broken down into varsity and JV races; however they all ran at the same time, with one large girl's race and one large boy's race.
The Lady Skins got the day started off with some impressive individual performances, as Senior runner Destyni Lucero was not only the first one to cross the line for the day, but she did so as the fastest ever in the race's eight year history. Lucero ran the two mile course in 12:34, two seconds faster than Chelsea Jackson, last year's winner from Garden City. Mercy Perez was Liberal's second runner who also cracked the top five, finishing in fourth place with a time of 13:25. Janette Borunda brought a medal back home to Liberal as well as she finished in 20th place, crossing the line in 14:19. The next four runners from the Lady Skins, rounding out the top seven were Lesli Mendoza, 28th place in 14:37, Vanny Diazdeleon, 37th place in 14:55, Adelina Parral, 45th place in 15:07, and Kayla Tran, 49th place in 15:17. The Liberal girls had a third place team finish, missing a team plaque by only one point. The top three teams of the race were first place Stratford 44 points, second place Perryton 86 points, and Liberal in third with 87 points.
Other Lady Skin Runners included Kim Francis 56th in 15:32, Abigail Rodriguez 60th in 15:37, Madison Butler 63rd in 15:41, Andrea Sanchez 64th in 15:47, Angelica Rodriguez 69th in 15:52, Dania Gonzalez 88th in 16:49, Camille Peterson 92nd in 17:03, Yajaira Rivera 103rd in 18:05, Alejandra Casas 105th in 18:12, Alexandra Rin 108th in 18:17, and Tessa Downs 116th in 19:39.
The Boys team also impressed, as the first four runners of the race were all wearing black and red. Angel Viveros took the lead of the race right before the mile marker and never looked back, finishing the 5K course in 17:10 for a first place finish and a new meet record, topping Hooker's David Perez time from 2010 by one second. Daniel Frazier was the second to cross the line in 17:26, which also made the record books as the 5th fastest time ran on the course. Frazier had teammate Obed Quintana right on his heals as Quintana ran 17:31 for the third place medal. The fourth runner in the quartet was Sammy Obando who crossed the line at 17:42. Emilio Tovilla continued his successful racing as he once again knocked time off his personal best. Tovilla finished in 18:21 and in 11th place. Luis Medina came home with a 15th place medal running the course in 18:42. Rounding out Liberal's top seven was Erving Altamirano who also medaled in the Varsity Race placing 20th, in 19:02. The Liberal boys were five points off of having a perfect score, a feet that is rarely ever seen in cross country. Top three teams were Liberal, bringing home the championship with 20 points, Boys Ranch in 2nd with 46 points, and Perryton in 3rd with 85 points.
Other Redskin runners included Marco Espinoza 24th in 19:29, Ricardo Bustos 29th in 19:56, Luis Medina 33rd in 20:03, Alex Chance 34th in 20:06, Trenton Wilson 36th in 20:12, Ryan Doll 55th in 21:16, Juan Carlos Ocampo 64th in 21:45, Eric Saenz 67th in 21:53, Greg McClurg 68th in 22:06, Daniel Romero 70th in 22:20, Jared Fox 73rd in 22:35, Jason Oyler 77th in 23:10, Miguel Sanchez 78th in 23:23, Trevin Garcia 83rd in 23:59, Edger Tafoya 85th in 24:27, Zane Chance 86th in 25:35, and Zach Ward 95th in 30:37.
The Redskins next action will be this Thursday as the J.V. will compete in Cimarron, for a varsity cross country meet. The Redskin Varsity Runners will have until October 11th when they travel to Garden City for the WAC championships.